<em>Taenia saginata<em> Goeze, 1872 (Platyhelminthes: Cestoda: Taeniidae) from an indigenous native from Tierra del Fuego, Chile
Eduardo I. Faúndez

Entomology Department, North Dakota State University, Dept. 7650, P.O. Box 6050; Fargo, ND, USA.

Máriom A. Carvajal

Departamento de Zoología Médica, Centro de Estudios en Biodiversidad (CEBCh), Magallanes, Chile.
Abstract
First record of Taenia saginata from an indigenous from Tierra del Fuego (Chilean Patagonia) is reported, from museum material of the year 1902. The importance of the record is discussed. Illustrations of the specimen are given.
References
Cayo, F., Valenzuela, G., Paredes, E., Ruíz, V., Gallo, C. (2013). Distribución y viabilidad de cisticercos de Taenia saginata en los cortes de carne de la canal de bovinos naturalmente infectados. Archivos de medicina veterinaria 45: 207-212.

Center for Disease Control and Prevention (CDC). 2015. "Taeniasis" online en: http://www.cdc.gov/dpdx/taeniasis/dx.html. Last accessed on March 03, 2015.

Eckert, J. (2005). Helminths. In: Kayser, F.H., Bienz, K.A., Eckert, J., Zinkernagel, R.M. (Eds.) Medical Microbiology. Stuttgart: Thieme. pp. 543-602.

Pérez, V. (2000). Cronología de antecedentes para la historia de las ciencias naturales de la región de Magallanes: Siglos XVI al XIX. Ediciones Universidad de Magallanes, Punta Arenas, Chile.

Torres, M., Pérez, C., Galdamez, E., Gabor, M., Miranda, C., Cofré, X., Tellez, P. (2001). Teniosis: Serie Clínica en 35 pacientes. Parasitología al día 25: 55-59.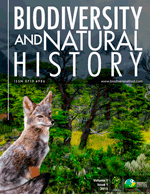 How to Cite
(1)
Faúndez, E.; Carvajal, M. <em>Taenia Saginata<Em&gt; Goeze, 1872 (Platyhelminthes: Cestoda: Taeniidae) from an Indigenous Native from Tierra Del Fuego, Chile. BNH 2015, 1, 12-13.
Section
Short Communications
Copyright (c) 2015 Biodiversity and Natural History
This work is licensed under a Creative Commons Attribution-NonCommercial 4.0 International License.
Authors who publish with this journal agree to the following terms:
Authors retain copyright and grant the journal right of first publication.
The articles in this journal are published under Creative Commons Attribution-NonCommercial 4.0 International License that allows others to share the work with an acknowledgement of the work's authorship and initial publication in this journal.
Authors are permitted and encouraged to post their work online (e.g., in institutional repositories, on their website or ResearchGate) prior to and during the submission process, as it can lead to productive exchanges, as well as earlier and greater citation of published work (SeeThe Effect of Open Access).