First record of <em>Ozognathus cornutus</em> (Le Conte, 1859) (Coleoptera: Ptinidae) in Chile
Richard Honour S.

Museo Nacional de Historia Natural, Área de Entomología, Santiago, Chile.

Sergio Rothmann T.

Servicio Agrícola y Ganadero, Sub-departamento Laboratorios y Estación Cuarentenaria Agrícola, Chile.
Abstract
The first record of the Ptinidae Ozognathus cornutus is indicated to Chile, based on six specimens found in Santiago city. The new record of this species, native to North America, must be added to interceptions recorded from the last decade of the XXth century in North Africa, Europe and New Zealand. The conditions of average temperatures and annual precipitations for the establishment of the species are analyzed.
References
Allemand, R., De Laclos, E., Büche, B. & Ponel, P. 2008. Anobiidae nouveaux ou méconnus de la faune de France (3e note) (Coleoptera). Bulletin de la Société Entomologique de France 113 (3): 397-402.

Bercedo, P., Arnáiz, L., Coello, P. & Baena, M. 2005. Ozognathus cornutus (LeConte, 1859), nuevo anóbido para la fauna ibérica (Coleoptera: Anobiidae). Boletín de la Sociedad Entomológica Aragonesa 37: 213-214.

Cusimano, C., Cerasa, G., Lo Verde, G. & Massa, B. 2014. Ozognathus cornutus (LeConte, 1859) (Coleoptera Anobiidae), new record for Italy. Il Naturalista siciliano, S. IV, XXXVIII (1), 2014, pp. 131-132.

Merkel, A. 2016. Climate-Data. http://es.climatedata.org/. Consultado el 20 de diciembre de 2016.

Pence, R. 1950. An Anobiid Beetle Infesting Avocado Trees. Journal of Economic Entomology 43 (5): 724.

Philips, T.K. 2002. Anobiidae. In Arnett R.H., Thomas M.C., Skelley P.E. & Frank J.H. (eds). American Beetles, Vol. 2. Boca Raton: CRC Press, pp. 245-260.

Telnov, D., Bukejs, A., Gailis, J., Kalnins, M., Kirejtshuk, A.G., Piterans, U. & Savich, F. 2016. Contributions to the knowledge of Latvian Coleoptera. 10. Latvijas Entomologs 53: 89-121.

White, R.E. 1982. A catalog of the Coleoptera of America north of Mexico. Family: Anobiidae. Agriculture Handbook. 529–70. Washington, DC: U.S. Department of Agriculture, Agricultural Research Service. xi–58.

Zahradník, P. & Mifsud, D. 2005. Ozognathus cornutus (LeConte), new record for the Palearctic Region (Coleoptera: Anobiidae). Studies and reports of District Museum Prague-East, Taxonomical series 1 (1-2): 141-143.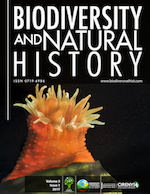 How to Cite
(1)
Honour S., R.; Rothmann T., S. First Record of <em>Ozognathus Cornutus</Em&gt; (Le Conte, 1859) (Coleoptera: Ptinidae) in Chile. BNH 2017, 3, 12-14.
Section
Short Communications
Copyright (c) 2017 Biodiversity and Natural History
This work is licensed under a Creative Commons Attribution-NonCommercial 4.0 International License.
Authors who publish with this journal agree to the following terms:
Authors retain copyright and grant the journal right of first publication.
The articles in this journal are published under Creative Commons Attribution-NonCommercial 4.0 International License that allows others to share the work with an acknowledgement of the work's authorship and initial publication in this journal.
Authors are permitted and encouraged to post their work online (e.g., in institutional repositories, on their website or ResearchGate) prior to and during the submission process, as it can lead to productive exchanges, as well as earlier and greater citation of published work (SeeThe Effect of Open Access).