A redescription and geographical records of <em>Teresita diffinis</em> (Felder & Rogenhofer) (Lepidoptera: Oecophoridae)
Francisco Urra

Museo Nacional de Historia Natural, casilla 787, Santiago, Chile.
Abstract
The morphological description of Teresita diffinis (Felder & Rogenhofer) is updated. Photographs of adult and genital structures, wing venation, and geographic distribution data for this species are given.
References
Becker, V.O. 1984. Gelechioidea. In: Heppner J. (Ed.) Atlas of Neotropical Lepidoptera Checklist: Part 1. Dr. W. Junk Publishers, The Hague, The Netherlands. pp. 27-53.

Bucheli, S.R. 2009. Annotated review and discussion of phylogenetically important characters for families and subfamilies of Gelechioidea (Insecta: Lepidoptera). Zootaxa 2261: 1-22.

Clarke, J.F.G. 1978. Neotropical Microlepidoptera, XXI: New genera and species of Oecophoridae from Chile. Smithsonian Contributions to Zoology 273: 1-80.

Common, I.F.B. 1990. Moths of Australia. Melbourne University Press. Victoria, Australia. 585 pp.

Felder, C. & Rogenhofer, A. 1875. Reise der österreichischen Fregatte Novara um die Erde (Zoologischer Theil) Band 2 (Abtheilung 2): plates 121-140.

Hodges, R.W. 1998. The Gelechioidea. In: Kristensen, N. (Ed.) Lepidoptera, Moths and Butterflies 1. Handbuch der Zoologie/Handbook of Zoology IV/35. Walter de Gruyter, Berlin y New York. pp. 131-158.

Klots, A.B. 1970. Lepidoptera. In: Tuxen, S.L. (Ed.), Taxonomist's Glossary of Genitalia in Insects, Second Edition, Munksgaard, Copenhagen, Dinamarca. pp. 115-130.

Lee, S.M. & Brown, R.L. 2006. A new method for preparing slide mounts of whole bodies of microlepidoptera. Journal of Asia-Pacific Entomology 9(3): 249-253.

Morrone, J.J. 2001 Biogeografía de América Latina y el Caribe. M&T–Manuales & Tesis SEA, vol. 3. Zaragoza, España. 148 pp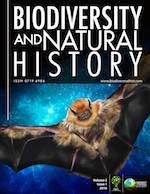 How to Cite
(1)
Urra, F. A Redescription and Geographical Records of <em>Teresita Diffinis</Em&gt; (Felder & Rogenhofer) (Lepidoptera: Oecophoridae). BNH 2016, 2, 46-49.
Section
Research Articles
Copyright (c) 2016 Biodiversity and Natural History
This work is licensed under a Creative Commons Attribution-NonCommercial 4.0 International License.
Authors who publish with this journal agree to the following terms:
Authors retain copyright and grant the journal right of first publication.
The articles in this journal are published under Creative Commons Attribution-NonCommercial 4.0 International License that allows others to share the work with an acknowledgement of the work's authorship and initial publication in this journal.
Authors are permitted and encouraged to post their work online (e.g., in institutional repositories, on their website or ResearchGate) prior to and during the submission process, as it can lead to productive exchanges, as well as earlier and greater citation of published work (SeeThe Effect of Open Access).