Finding of a second population of <em>Miersia chilensis</em> Lindl. var. <em>bicolor</em> M. Muñoz (Alliaceae)
Andrés Muñoz-Sáez

Rafael Urbina-Casanova

Katherinne Silva-Urrutia

Jorge F. Perez-Quezada
Abstract
A second population of Miersia chilensis var. bicolor M. Muñoz was found at the Lonquén hill, which extends its distribution 15 km north and its altitudinal range in 200 m. The population abundance was estimated on years 2011 and 2015. Images of the specimens found are presented, with a description of the site and the plant community.
References
CONAMA (Comisión Nacional del Medio Ambiente). 2004. Estrategia para la conservación de la Biodiversidad en la Región Metropolitana de Santiago. Santiago, Chile.

DMC (Dirección Meteorológica de Chile). 2015. Informe de precipitaciones. http://www.meteochile.gob.cl/inf_precipitacion.php. Último acceso 18 de octubre de 2015.

Escobar, I., Novoa,P., Ruiz, E., Negritto, M., Baeza, C. 2010. Nuevo hallazgo de Miersia cornuta Phil. (Gilliesieae-Alliaceae). GayanaBotanica 67: 130-134.

Escobar, I. 2012. Sistemática de la tribu Gilliesieae Lindl. (Alliaceae), sobre la base de evidencias morfoanatómicas, citológicas y moleculares. Tesis Doctoral en Ciencias Biológicas, Universidad de Concepción, Chile.

Gajardo, R. 1994. La vegetación Natural de Chile. Clasificación y distribución geográfica. Editorial Universitaria, Santiago, Chile.

Gibson, D.J. 2015.Methods in comparative plant population ecology. Second edition. Oxford University Press, Oxford, UK.

INE (Instituto Nacional de Estadísticas). 2014. Variables de estado del medio ambiente (Clima). http://www.ine.cl/canales/chile_estadistico/estadisticas_medio_ambiente/medio_ambiente.php. Último acceso 18 de octubre de 2015.

Moreira-Muñoz, A. 2011.Plantgeography of Chile. Plant and Vegetation Series Vol. 5. Springer, New York, U.S.A.

Muñoz-Schick, M. 2003. Tres nuevas monocotiledóneas descubiertas en Chile: Alstroemeria mollensis M. Muñoz et A. Brinck (Alstroemeriaceae), Miersia chilensis var. bicolor M. Muñoz (Gilliesiaceae) y Calydorea chilensis M. Muñoz (Iridaceae). Gayana Botanica 60: 101-106.

Muñoz-Schick, M., Moreira-Muñoz, A. 2000. Los géneros endémicos de monocotiledóneas de Chile continental. Chlorischilensis. http://www.chlorischile.cl/Monocotiledoneas/Principalbot.htm. Último acceso 17 de diciembre de 2015.

Muñoz-Schick, M., Moreira-Muñoz, A., Moreira-Espinoza, S. 2012. Origen del nombre de los géneros de plantas vasculares nativas de Chile y su representatividad en Chile y el mundo. Gayana Botanica 69: 309-359.

Myers, N., Mittermeier, R., Mittermeier, C., Da Fonseca, G., Kent, J. 2000. Biodiversity hotspots for conservation priorities. Nature 403: 853-858.

Universidad de Chile. 2011. Diagnóstico Sitio Prioritario Cerro Lonquén. Informe final Proyecto FPA 2011: Conservación de la biodiversidad de los sitios prioritarios Lonquén y Chena a través de la educación y las buenas prácticas agrícolas. Ministerio de Medio Ambiente y Agrupación Ambiental Calera de Tango, Municipalidad de Calera de Tango, Santiago, Chile.

Zuloaga F., Morrone, O., Belgrano, M. (Eds.). 2008. Catálogo de las Plantas Vasculares del Cono Sur (Argentina, Sur de Brasil, Chile, Paraguay y Uruguay). Missouri Botanical Garden Press, Missouri, U.S.A.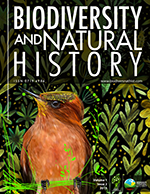 How to Cite
(1)
Muñoz-Sáez, A.; Urbina-Casanova, R.; Silva-Urrutia, K.; Perez-Quezada, J. Finding of a Second Population of <em>Miersia Chilensis</em> Lindl. Var. <em>bicolor</Em&gt; M. Muñoz (Alliaceae). BNH 2016, 1, 55-58.
Section
Short Communications
Copyright (c) 2016 Biodiversity and Natural History
This work is licensed under a Creative Commons Attribution-NonCommercial 4.0 International License.
Authors who publish with this journal agree to the following terms:
Authors retain copyright and grant the journal right of first publication.
The articles in this journal are published under Creative Commons Attribution-NonCommercial 4.0 International License that allows others to share the work with an acknowledgement of the work's authorship and initial publication in this journal.
Authors are permitted and encouraged to post their work online (e.g., in institutional repositories, on their website or ResearchGate) prior to and during the submission process, as it can lead to productive exchanges, as well as earlier and greater citation of published work (SeeThe Effect of Open Access).