A redescription and new geographical records of <em>Doina edmondsii</em> (Butler, 1883) (Lepidoptera: Depressariidae)
Francisco Urra

Museo Nacional de Historia Natural
Abstract
This study provides an updated morphological description of Doina edmondsii (Butler, 1883) based on specimens collected in central Chile and photographs of its type specimen. The genital structures of the male and the female are described and illustrated for the first time. Also, new geographic records are given for the species.
References
Becker, V.O. 1984. Gelechioidea, In: Heppner J. (ed.), Atlas of Neotropical Lepidoptera Checklist: Part 1. Dr. W. Junk Publishers, The Hague, The Netherlands, pp. 44-53.

Birch, M.C., Poppy, G.M. & Baker, T.C. 1990. Scents and eversible scent structures of male moths. Annual Review of Entomology 35: 25-58.

Bucheli, S.R. 2009. Annotated review and discussion of phylogenetically important characters for families and subfamilies of Gelechioidea (Insecta: Lepidoptera). Zootaxa 2261: 1-22.

Butler, A.G. 1883. Heterocerous Lepidoptera Collected in Chile by Thomas Edmonds, Esq. Transactions of the Entomological Society of London, Part IV. Pyralesand Micros 1: 49-90, pl. 11.

Calvert, W.B. 1886. Catálogo de los lepidópteros rhopalóceros i heteroceros de Chile. Anales de la Universidad de Chile 69: 311-352.

Clarke, J.F.G. 1978. Neotropical Microlepidoptera, XXI: New genera and species of Oecophoridae from Chile. Smithsonian Contributions to Zoology 273: 1-80.

Common, I.F.B. 1990. Moths of Australia. Melbourne University Press. Victoria. 585 pp.

Gaede, M. 1939. Oecophoridae II, In: Bryk, F. (ed.), Lepidopterorum Catalogus 92, Gravenhage, pp. 209-476.

Hodges, R.W. 1998. The Gelechioidea, In: Kristensen, N. (ed.). Lepidoptera, Moths and Butterflies 1. Handbuch der Zoologie/Handbook of Zoology IV/35. Walter de Gruyter, Berlin y New York, pp. 131-158.

Hormazábal, M., Parra, L.E. & Ibarra-Vidal, H. 1994. Biología reproductiva y morfología de Doina collimamolae, nueva especie de esqueletizador del arrayán (Luma apiculata) (Lepidoptera: Oecophoridae). Tropical Lepidoptera 5(2): 109-116.

Klots, A.B. 1970. Lepidoptera, In: Tuxen, S. L. (ed.), Taxonomist's Glossary of Genitalia in Insects, Second Edition, Munksgaard, Copenhagen, Dinamarca. pp. 115-130.

Lee, S.M & Brown, R.L. 2006. A new method for preparing slide mounts of whole bodies of microlepidoptera. Journal of Asia-Pacific Entomology 9(3): 249-253.

Lvovsky, A.L. 2012. Comments on the classification and phylogeny of broad-winged moths (Lepidoptera, Oecophoridae sensu lato). Entomological Review 92: 188-205.

Meyrick, E. 1922. Lepidoptera-Heterocera: Family Oecophoridae. In: Wytsman, P. Genera Insectorum, 180, pp. 1-224.

Morrone, J.J. 2001. Biogeografía de América Latina y el Caribe. M&T-Manuales & Tesis SEA, vol. 3. Zaragoza, 148 pp.

Nichols, S.W. 1989. The Torre-Bueno glossary of Entomology. The New York Entomological Society and American Museum of Natural History, New York. 840 pp.

Parra, L.E. & Ibarra-Vidal, H. 1991. Doina clarkei n. sp. de Oecophoridae: biología y descripción de los estados postembrionales (Lepidoptera). Gayana Zoología 55(2): 91-99.

Scoble, M.J. 1995. The Lepidoptera. Form, function and diversity. Oxford University Press, Suffolk. 404 pp.

Sutter, R. 2001. ZurIdentität von Oegoconia ariadne Gozmany, 1988 (Lep. Symmocidae). Entomologische Nachrichten und Berichte 45(2): 111-114.

Urra, F. 2014. Un nuevo género chileno de Depressariidae (Lepidoptera: Gelechioidea). Boletín del Museo Nacional de Historia Natural Chile 63: 101-110.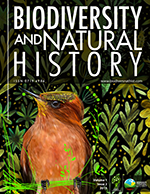 How to Cite
(1)
Urra, F. A Redescription and New Geographical Records of <em>Doina Edmondsii</Em&gt; (Butler, 1883) (Lepidoptera: Depressariidae). BNH 2016, 1, 50-54.
Section
Research Articles
Copyright (c) 2016 Biodiversity and Natural History
This work is licensed under a Creative Commons Attribution-NonCommercial 4.0 International License.
Authors who publish with this journal agree to the following terms:
Authors retain copyright and grant the journal right of first publication.
The articles in this journal are published under Creative Commons Attribution-NonCommercial 4.0 International License that allows others to share the work with an acknowledgement of the work's authorship and initial publication in this journal.
Authors are permitted and encouraged to post their work online (e.g., in institutional repositories, on their website or ResearchGate) prior to and during the submission process, as it can lead to productive exchanges, as well as earlier and greater citation of published work (SeeThe Effect of Open Access).